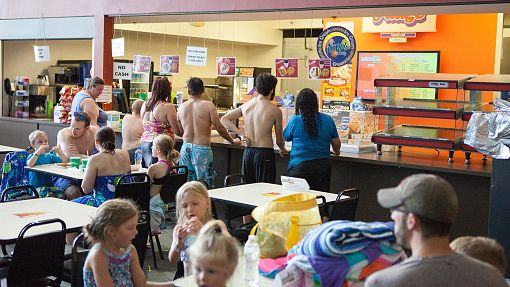 Concerned if food is available, or how you are going to pay for it when you are in your swimsuit? Don't be!
Our snack bar is fully stocked with both traditional and healthy choices. Drinks, desserts, sweets, even gluten-free items.
And don't worry about the payments either. The wrist-band that lets you enter the water park also lets you pay for the nourishment, literally with a flick of your wrist.
Drinks
16oz
32oz
16oz Souvenir Cup
Tumbler Cup
Yard Cup
Bottled Water
Hot water
Milk
Coffee
Orange Juice
Good To Grow Juice
Bug Juice
Made To Order
Build Your Burger w/Fries
Chicken Sandwich w/Fries
Chicken Fried Steak Sandwich w/Fries
Favorites
Hamburger
Fries
Frito Chili Pie
Stuffed Baked Potato
Corn Dog
Soft Pretzel
Nachos
Bratwurst
Polish Sausage
Chicken Tenders
Hot Dog
Grilled Cheese
Kid's Grilled Cheese w/Fries & Sm Drink
Popcorn
Pickle
Bag of Chips
add Chili, Bacon, Cheese
Pizza & Wings
Whole Pizza
Double Hunk
Hunk
Wings
Healthy Options
Strawberry Yogurt Parfait
Garden Salad
Fruit Cup
Fruit
Desserts
Homemade Fudge
Ice Cream
All Candy
5oz Dippin Dots
9oz Dippin Dots
Churros
Gluten Free Items
Nacho Cheese
Pickles
Fruit Cups
Naked Chicken Breast
Bananas
Apples
Lettuce Salad
100% Beef Hamburgers
Bacon
Potatoes
Fritos
Dippin Dots( some flavors only)