NOTICE: We will be closed for renovation from January 6th, 2020. We will reopen on February 7th at 4 PM.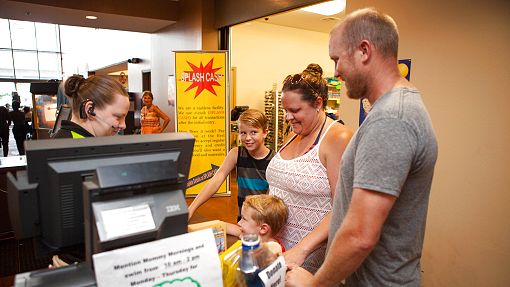 Daily tickets ONLINE – purchase at least a day in advance and save!
Daily tickets online are not available same day as arrival.
Daily tickets can be purchased at the door, but booking online saves you money and guarantees you entry even when the water park is full.
We are located directly off I-40, exit 65A, making us easy to reach by guests from Amarillo to Oklahoma City.
Parking is FREE!
Questions? Call 580 323 9966
3 years old and under FREE
Under 48″ – $25.99 + tax
Over 48″ at the door – $39.99 + tax
Over 48″ online – $37.99 + tax
Thinking about staying overnight? Don't miss our Hotel Packages!
Kids also love Birthday Parties at Water-Zoo, check out the pictures at our Facebook page!
Looking for a deal?
Subscribe below and be notified of all our great deals and interesting events!
Water-Zoo Indoor Water Park Clinton Oklahoma
Water-Zoo Indoor Water Park Clinton Oklahoma – right on I-40, just 85 miles from OKC and 176 miles from Amarillo.
Holiday Inn Express
30 feet from the Water-Zoo
Hampton Inn
1/2 mile from the Water-Zoo
Philips 66
Water-Zoo Campground Entrance